CTC FC Pokes Fun At Chiefs Ahead Of Tonight's Game! We love how clubs now not only use social media for updates but to literally troll other clubs for their fans' pleasure.
Cape Town City FC couldn't help but join everyone who has been trolling Kaizer Chiefs lately and they seem pretty confident they will against Amakhosi tonight.
"Two contrasting starts, but Chiefs will look to make a major upset tonight. It's going down – 7:30pm CT Stadium!," reads a tweet on the City official twitter account.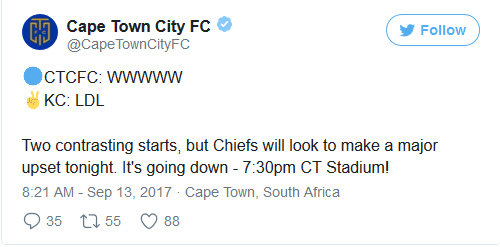 After a Chiefs pointed out suggesting City was just being lucky, the club's response shows just how untouchable they feel. "How can 5 wins in a row be lucky? Thats 450minutes of football. Playing the reigning champions for 270 of those minutes. Champagne will come," the club tweeted.
What's your prediction for tonight's game?
How can 5 wins in a row be lucky? Thats 450minutes of football. Playing the reigning champions for 270 of those minutes. Champagne will come

— Cape Town City FC (@CapeTownCityFC) September 13, 2017
Comments
comments