Francesco Totti Retires at 40.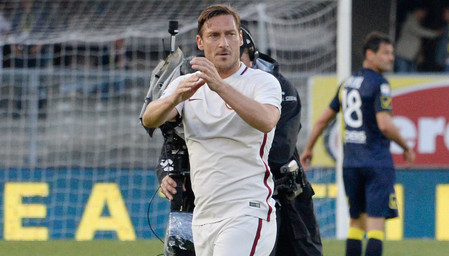 Roma legend Francesco Totti has confirmed that he will retire at the end of the season, this is after he made it known that Sundays clash against Genoa will be his last game.
Totti revealed through his twitter account: "Roma-Genoa, Sunday 28th May, the last time I can wear Roma's jersey"
Totti has been at Roma since the age age of 13 and has made 784 appearances for the Italian side. He also holds the record as the oldest player to score a Champions League goal, at 38 years sn and 59 days. Throughout his career Totti turned down several offers from teams who interested in his services, rather opting to stay to his childhood team.
<
The player said: "I can tell you in a few words how much these colors meant, mean and will always mean to me," he added. "I just feel that my love for football never fades: its a passion, my passion. Its so deep I cant imagine not fueling it any longer. Ever.
"From Monday I'm ready to go again. I'm ready for a new challenge".
By Jimmy Modise.
Comments
comments