In Memes! Black Twitter Finds Kompela's Son On Date My Family
In Memes! Black Twitter Finds Kompela's Son On Date My Family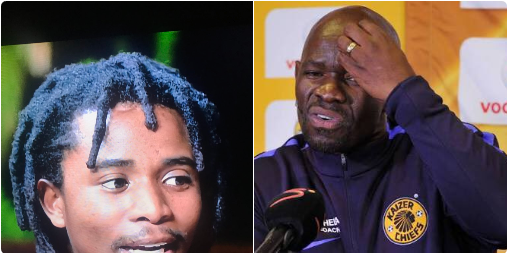 In Memes! Black Twitter Finds Kompela's Son On Date My Family! Kaizer Chiefs coach, Steve Kompela has become more famous for his post match interviews which no one understands more than winning actual games.
Kompela often tells ancient stories and give complicated examples when explaining everything going on at Kaizer Chiefs. Sunday night's episode of Date My Family left black twitter asking if the bachelor was related to Kompela because of their similar styles in explaining things.
Check out the reactions in memes below.
I think I've found Steve Kompela's son #DateMyFamily pic.twitter.com/ZfPfAT0gCw

— JUNIOR DE ROCKA (@JuniorDeRocka) April 8, 2018
This guy might be Steve Kompela's son 😂😂😂😂
.#DateMyFamily

— Dustman (@Dustman_Dj) April 8, 2018
#DateMyFamily Did he just pull a Steve Kompela on us? pic.twitter.com/1kwhwr0K10

— The Black Guy (@gblacksa) April 8, 2018
RT to make someone else's day. #DateMyFamily pic.twitter.com/lLufG3q7b2" Steve kompela's Son

— NOBUHLE NEGEZA LENSI (@nobuhlenegeza) April 9, 2018
#DateMyFamily #dmfmzansi Steve Kompela is that you ???🤣🤣🤣 pic.twitter.com/FdijpLQp3v

— Blooming Wallflower (@LeratoAure) April 8, 2018
<
#DateMyFamily this guy and steve kompela same watsapp i tell u

Them:Where do u work

Him: I'm the one man whom……. pic.twitter.com/efkIjfd3UN

— Mzamo (@mzetbuthelezi) April 8, 2018
Bare Steve Kompela Must come and get his son 🤣😂😂😂😂 #DateMyFamily pic.twitter.com/m5dwdU9QU9

— Black & Blessed ❤❤✌ (@Mama_Bridgie) April 8, 2018
Steve Kompela's boy on #DateMyFamily 🤣😂🤣 I didn't understand a word he said pic.twitter.com/VZLIav1TJg

— Nondumiso Mbingo (@NdumyMbingo) April 8, 2018
Are we sure this is not Steve Kompela's son? 🤔🤔🤔#DateMyFamily

— iNtokozo 🇿🇦 (@YeyeyekaNdaba) April 8, 2018
#DateMyFamily
Steve Kompela reveal your self because ur son is doing the most here. 😃😭😅 pic.twitter.com/gxilUhDUxj

— Mpilonhle Trevor (@Travor_Mpilo) April 8, 2018
This guy must be a graduate of the #SteveKompela's School of English and Metaphors #DateMyFamily 🤣🤣🤣

— Given Mashaba (@GMashaba) April 8, 2018
Comments
comments