Mbesuma: "Iam Enjoying My Football"
Collins Mbesuma started the 2015/16 Absa Premiership campaign on a positive note, Amazayoni striker "Ntofontofo" said he has now settled at Mpumalanga Aces and he is enjoying his soccer career at the Mbombela based club. The 31 years old forward is in good form, as he is currently at the top of the goal scoring charts with five goals after six matches. Mbesuma gives credit to all the players of Mpumalanga Aces for his good form.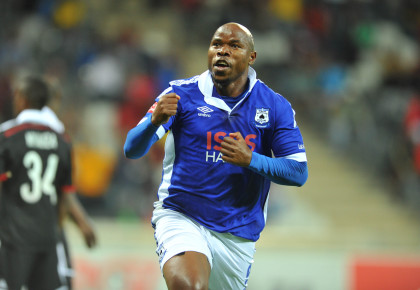 "It has been a great season for me so far and am scoring goals and enjoying my football," Mbesuma said.
"I think it's because I have been with the team since last season. So I believe that we now understand each other very well and it's working for the team.
"We are combining well which is why I am scoring goals for the team but the goals only come when the team is playing well. At the end of the day it's not only about me scoring goals but it's all about the whole team.
"And I believe that the rest of the team deserves some credit as well for their hard work."
The experienced strike he is not interested with the top goal scorer award, all he wants is to see his team doing well and ending at the top 3 this season.
"At the moment I am not setting my sights on the golden boot. I believe that it's still early days and our main ambition as a team is to continue working hard.
"And as a team we really want to see ourselves finishing inside the top 3 position on the log at the end of the season. Then I will worry about the rest later."
Comments
comments