10 things you didn't know about Neil Tovey.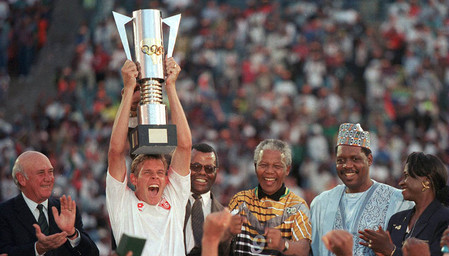 1. Tovey was born in Pretoria but grew up in Durban .
2. He aspired to be a doctor before opting to play professional football.
3. His brother Mark who was also a footballer used to give him football lessons.
4. He made his professional debut for Durban City in 1981 and won the 1982 and 1983 NPSL titles under Clive Barker and played 176 league games.
5. He joined Chiefs in 1990 and took over captaincy from Howard Freese in 1992 wearing the number 9 jersey. In the same season, Tovey got a record 52 starts which is still a record.
6. He played 362 matches and scored 32 goals in all competitions. In the very last match of his career and his last two touches Chiefs colours resulted in a goal in a 5–1 win over
Dynamos on 9 June 1999.
7. Tovey is a former player of the South Africa national football team , and won 52 caps for the national side without scoring a goal. He captained the team 29 times.
8. Tovey lives in Johannesburg with his wife Nadine Tovey and has three children, Bianca (b. 1991), Jessica (b. 1993) and Sheldon (b. 1997).
9. Sheldon wears a hearing aid and has impaired speech because oxygen was cut off from his brain after being burnt by scalding water in 1998.
10. On 23 February 2015, Tovey was admitted to ICU after suffering from three heart attacks during a game of squash . Tovey suffered a further heart attack in October 2016, and was admitted to hospital.
By Jimmy Modise.
Comments
comments