15 Things you don't know about Benni McCarthy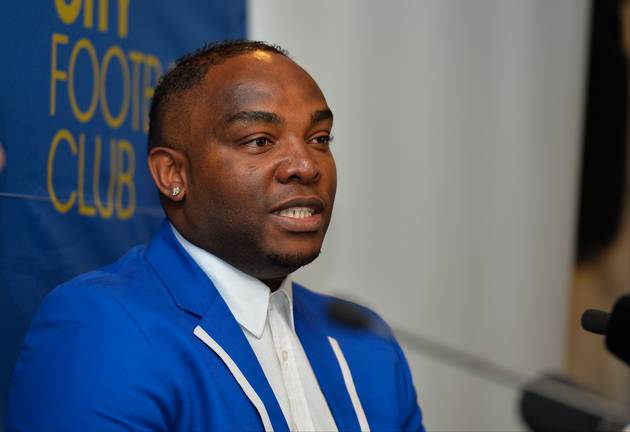 1.  Full name Benedict Saul "Benni" McCarthy
2.  Benni McCarthy was born on the 11th December 1977 in Cape Town and grew up in Hanover Park on the Cape Flats
3.  Benni McCarthy is the son of Dudley and Dora McCarthy and has two brothers and a sister. His older brother is Jerome McCarthy, a former professional footballer who played for Kaizer Chiefs and Manning Rangers among other clubs,while his younger brother Mark played football at Franklin Pierce University in the United States.
4.  Benni McCarthy started playing at a local side called Young Pirates which was managed by his uncles. He then joined the youth structures of a local amateur club called Crusaders. At age 17, he was signed by 1st division club Seven Stars. He is managed by ExtraTime S.L
5.  Playing for Seven Stars, the 18-year old Benni McCarthy scored 1 goal in 29 games in the 1995–96 season, followed by another 12 goals in 20 matches, which earned him a transfer to Cape Town Spurs which two years later merged with Seven Stars to form Ajax Amsterdam feeder team Ajax Cape Town.
6.  In 1997, after an impressive showing at the African Youth Championship and FIFA World Youth Championship in Malaysia, Benni McCarthy joined the Dutch side, where he scored 9 goals and was crowned champion in his first season
7.  Benni McCarthy never established himself as a regular choice for Celta Vigo's manager, Víctor Fernández. After two poor seasons at the Galician club, he was loaned to struggling FC Porto in the 2001–02 season where he soon rediscovered the form that took him to Europe.
8.  When José Mourinho left and was (shortly) replaced by Italian coach Luigi Delneri, Benni McCarthy considered leaving for the FA Premier League, but the two years left in his contract posed a problem. When the Italian coach was fired and replaced by his former Celta coach Fernandez (of whom he said he would rather quit playing than be coached by again) he tried to pressure Porto to sell him to Everton, who needed a replacement for Wayne Rooney
9.  Benni McCarthy made his full international debut in a friendly against the Netherlands on 4 June 1997.
10.  Along with veteran Egyptian Striker Hossam Hassan, Benni McCarthy was the joint top scorer in the 1998 African Cup of Nations in Burkina Faso with seven goals, including four in 13 minutes against Namibia. In addition, he was named Player of the Tournament.
11.  Prior to the 2010 FIFA World Cup Benni McCarthy announced his support for the Gun-Free World Cup campaign being run by International Action Network on Small Arms. He said: "This World Cup will be the biggest in football history and the fact that it is taking place in South Africa is a chance for us to show the world everything that is good about our country. It's great that guns will be banned from stadiums – it's going to be a fantastic party, and guns have no place in that
12.  After struggling with his fitness and facing criticism at home for being overweight, Benni McCarthy was omitted from the final South African 23-man squad for the 2010 World Cup which was announced on 1 June 2010
13.  Benni McCarthy scored two goals in the final half-hour to help the Pirates defeat the Golden Arrows 4–2 on 19 May 2012 to retain their Premier League title. McCarthy finished his successful season with 10 league goals, ending the campaign as the fourth leading goal-scorer in the Premiership, helping the club secure their second successive treble. Having already won a league championship with Ajax Amsterdam in Holland as well a FC Porto in Portugal both in Europe, Benni would make football history by winning the league championship with Orlando Pirates in South Africa. This meant that McCarthy is the first South African footballer who has won 3 league titles with 3 different football teams on 2 different continents.
14.  Benni McCarthy, who is affectionately known as Big Brother by the Orlando Pirates faithful, was handed a red card for dissent in the MTN 8 secondleg semi-final played on Saturday 25 August 2012, after he charged Franklin Cale after a reckless challenge on Daine Klate. This incident lead to protesting fans whom, in their view, Cale was equally guilty in the incident and should have also been shown the red. McCarthy announced his retirement from professional football on 6 June 2013, aged 35
15.  Benni McCarthy is the Bafana Bafana's all-time top-scorer with 31 goals
Comments
comments