Here's Why Coach Mosimane Wants To Take Brockie And Sirino To A Sangoma
Here's Why Coach Mosimane Wants To Take Brockie And Sirino To A Sangoma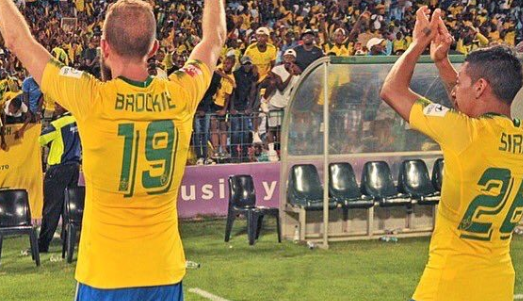 Here's Why Coach Mosimane Wants To Take Brockie And Sirino To A Sangoma! Sirino joined the Brazilians from Bolivian side, Bolivar, in the January transfer window and Brockie has made twelve appearances since joining the club but both stars have been unlucky in scoring goals.
In a recent interview, Sundowns coach Pitso Mosimane joked about how he wants to take the two players to a Sangoma before explaining why he thinks they are not performing well.
"There are two people, who are really unfortunate. We told them we must take them to the township to one sangoma," Mosimane joked.
"Sirino, every game he gets a chance and if he doesn't hit the post, he misses an easy one same as Jeremy. Those guys are so unlucky. But they play well and they help us, you know. It's okay, Sirino is gonna get there," Mosimane said.
"You must also understand I was watching the game in South America just to try and see what's the difference now that he's here. They (South Americans) play a little bit slow hey and here, he has to come back and defend.
"They drag the game, but in the Absa Premier League everybody moves hey so he's also trying to adjust but he will get there."
Comments
comments