Football
Baxter Announces The AFCON 2019 Bafana Squad: Fans React
Baxter Announces The AFCON 2019 Bafana Squad: Fans React! The African Cup of Nation 2019 is around the corner and Bafana Bafana coach, Stuart Baxter has announced the final squad.
It seems as always there are mixed feelings on the final cut on the squad that will represent us in Egypt. Khune failed to make the goalkeeper cut and Zungu and Dolly got the call. Check out the full list below.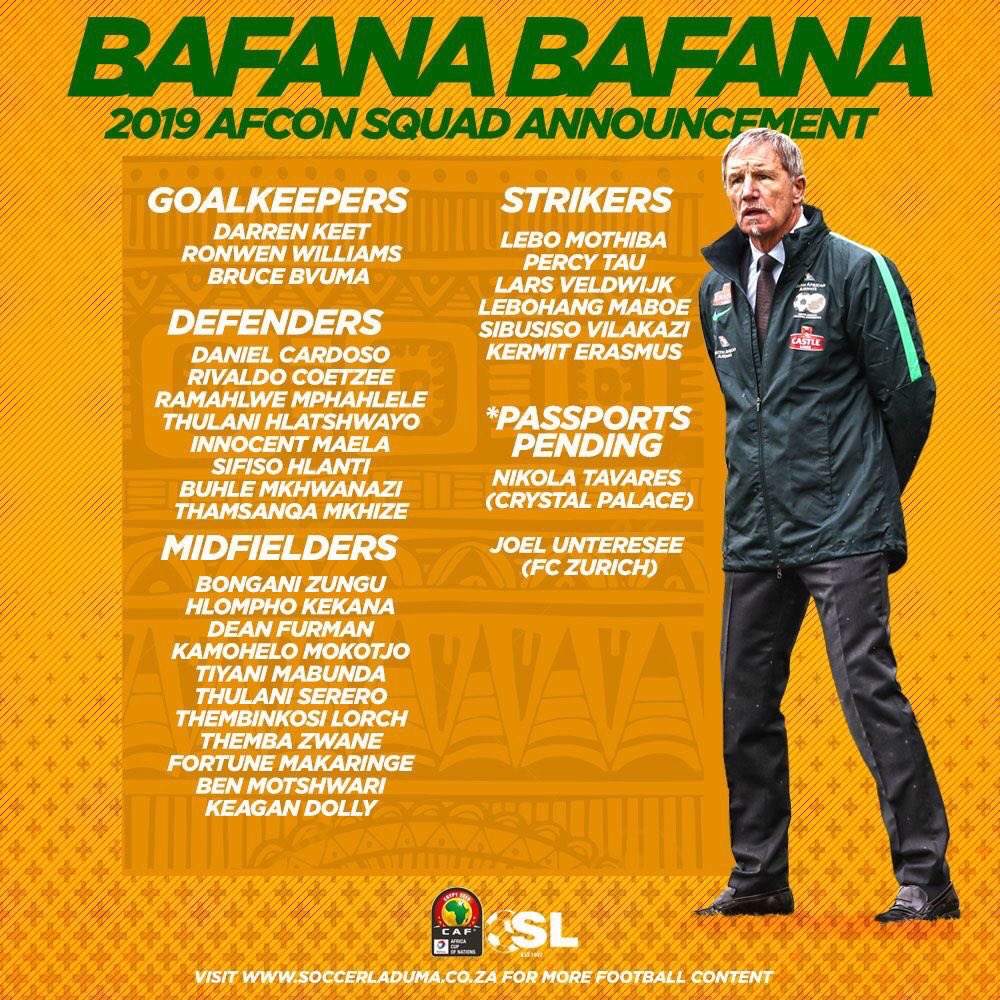 Soccer fans had some things to say about the squad. Here are some of the reactions from soccer fans on twitter.
I'm sure Rama has Baxter nudes…this it only explanation pic.twitter.com/huane9g7bf

— Gumball Waterson (@Gumball_SBO) May 21, 2019
Baxter: Players in-form aren't always international material. #Afcon2019

— Mazola J. Molefe (@superjourno) May 21, 2019
So Baxter selects players because they ask him to pic.twitter.com/ROCHN8V8x1

— ~Maestro J🌛 (@MaestrojMdhluli) May 21, 2019
AFCON without Khune 😬

— IG: Absalom_m 🇿🇦 (@Absalom__M) May 21, 2019
Khune must be dying right now😂😂😂😂😂😂😂 #AFCON2019

— maKhanyeza (@Vuyie) May 21, 2019
AFCON qualification or not, Stuart Baxter is still NOT Bafana Bafana's material!!!! His favouritism game is so strong!!! Was Rama better than Morena this season? Goals, assists wise ? 'CAF experience' ?

— Asiy'funi iAgenda Yama Capitalist (@ThatDick_Teekay) May 21, 2019
What has Kermit Erasmus done to earn a call to go to Egypt? #AFCON2019

— Siyabonga Xolo (@Siya_Emmanuel) May 21, 2019
I think other players get call ups purely on reputation Bafana Bafana #AFCON2019 squad pic.twitter.com/E7mGSlvaB2

— Qamata Likhaya (@Tabile_Zukile) May 21, 2019
What should Thapelo Morena do to play at Bafana kante…??? #AFCON2019 #BafanaBafana

— Walter Maja (@WalterMaja7) May 21, 2019