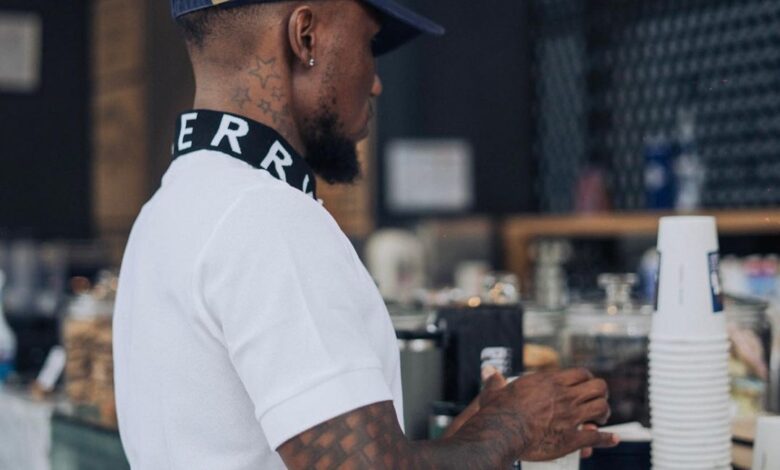 Check Out the Impeccable Tattoo's on Teko Modise! The former footballer has amassed a good amount of body ink over the years.
Teko Modise spawns some of the best tattoo's you could find in the PSL fraternity. Take a look at the variety of ink he has on his body.
The former Mamelodi Sundowns midfielder has a beautiful collection of tattoos on his body. He started with a few before he transferred to SuperSport United back as an NFD player.
Nowadays, he has basically managed to tattoo his entire body. When working on SuperSport TV, his body art is barely visible because he is usually in formal, long-sleeved wear.
It is when he is working on other, less formal projects, that we get to see his tattoos.
Since retiring from the game in 2019, Dona has been involved in quite a few projects. As previously mentioned, he is a commentator and analyst on SuperSport TV.
PR & Talent Management Company – The Prestigious Group
Modise also founded a PR and talent management company, The Prestigious Group.
"It is with great excitement to announce that a concept that has been a long time in the making, has finally materialised." He announced as the company was unveiled.
"We as The Prestigious Group are finally open for business and will be aiming to better improve the state of the Entertainment Industry, by making sure that the care of its assets is at the forefront.
"Without these assets, there is no industry. These assets are the talent that executes the product that we all enjoy, be it music, sport or television.
"As a PR and Talent Management company, we aim to ensure that Talent is always a priority in order to ensure that our clients perform at their peak without having to worry about the business end of things.
"We will be making official announcements on our Instagram page as to who these clients are. With the team being led by the Legendary Teko Modise, we have no doubt that our vision will be fulfilled, and the Navigator will lead us to greater heights.
"We look forward to sharing this journey with you. Kind regards, The Prestigious Group."
Some of their clients include Keagan Buchanan and Reneilwe Letsholonyane. Check Out the Impeccable Tattoo's on Teko Modise!