5 Craziest World Cup Moments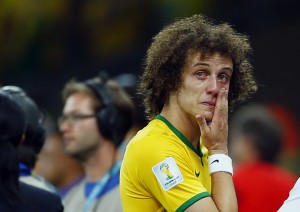 The FIFA World Cup always brings us entertainment, from world cup events, soccer action and the crazy world cup moments. What would this tournament be without such crazy moments that we will always keep in our minds. Here are the top craziest moments in the 2014 FIFA World Cup Brazil.
Chilli Bite: Saurez
He had developed the hobby of sinking his teeth unto his opponents. He claimed in his defence to FIFA that the shocking act was not deliberate and he simply lost his balance and fell on to the Italian player with his teeth. The seven-strong panel dismissed Suárez's argument after studying the incident from 34 camera angles. The bite was "deliberate, intentional and without provocation", the ruling read. "He bit the player with the intention of wounding him or at least of destabilising him".
Alejandro Sabella's big slip
Argentina's manager giving us ideas that he is fainting, kneeling backwards and being caught by a member of his backroom staff.
Germany's terrible free kick
When a strategy goes wrong, the Germans stumbled and collapsed. Then a defender claimed after the game that the stumble was all part of the plan.
Neymar slips while on his way to celebrate
Thiago Silva scored in the seventh minute against Colombia, giving Brazil a lead in the quarter finals. The teammates immediately joined Silva in celebration. Neymar came running from the far side to celebrate, in that very moment he slipped and fell right on his back.
Mathieu Valbuena's oversized mascot
Sometimes being short can be pretty much disappointing. It didn't seem cool at all when FIFA assigned a tall mascot to Valbuena ahead of the quarter-final against Germany.
Brazil Weeping
Germany shattered the dreams and hopes of the Brazilians to lift that world cup, on Tuesday night. I bet no one has ever seen a nation breaking down like that, from the players to the fans. The love for football in Brazil is remarkable.
Comments
comments