Victor Valdes : I've adapted to United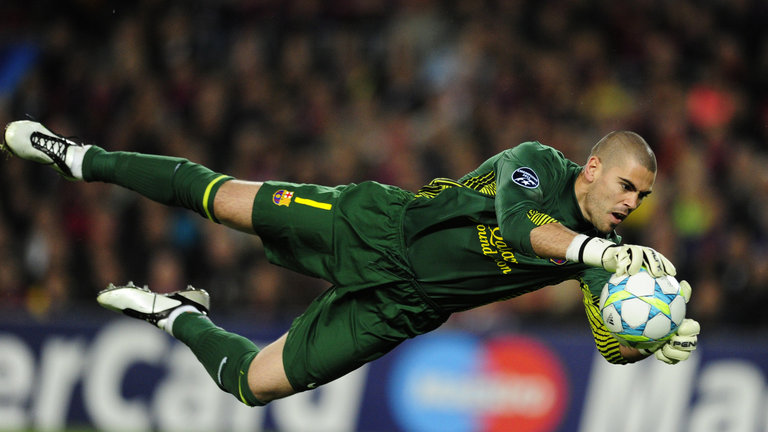 Victor Valdes cuts an imposing figure as he sits down to discuss bedding in at Manchester United. The most decorated footballer ever to join the club speaks excellent English, despite claiming Juan Mata and Ander Herrera have had to help him in this regard.
As we talk about life in the city, there is some snow on the ground at the Aon Training Complex after a particularly chilly day in mid-March. "I enjoy the different weather here to what it is usually like for us in Spain," he laughed, even if it was hard to believe him. "Seriously, I'm happy. It's not so different for my family. I have three children and my eldest kid is five years old and was already studying English in Barcelona, so it's not a big change for him and his brothers.
"I'm very happy with my knee and playing with my new team-mates. It's a good feeling to be on the pitch again playing football. It is most important for me after my injury."
Just over a year ago, on 26 March 2014, Valdes tore his anterior cruciate ligament when saving a free-kick during a match against Celta Vigo. It ended his hopes of going to the 2014 World Cup finals and, of course, prematurely cut short his first-team days at Barcelona. Valdes had already made his mind up to quit a club he represented 535 times during a glorious decade of sustained success at Camp Nou but had no idea at the time his next port of call would be Old Trafford.
Louis van Gaal had been his coach in the Catalan capital and the Dutchman's arrival at United, along with goalkeeping coach Frans Hoek, whom he describes as "special", opened the door to Valdes' switch in January after an initial spell training with the club and completing his rehabilitation.
"I am very happy for this option in my career after my injury," he explained. "I never thought maybe I will be a player of Manchester United but the manager called me and gave me this option, so it was a surprise for me. I always say it's great for my career to be a part of this club and part of this team and, maybe, I hope to win another important trophy here too.
"They are both massive clubs with a massive number of trophy wins and the number of fans around the world is so big. I think it's the same when you play for one of the most important clubs in the world, Man U or Barcelona, you must win always. This is our expectation and our job every day – for us, for the club and for the fans. It's not
different for me. I know very well what you feel when you play for a big club, so it is not a big change for me."
There appears to be no ego in a man who accepts that the form of fellow countryman David De Gea – who he describes as "the most important goalkeeper in the world" at present – means he is having to bide his time before making his senior debut for his new club. Indeed, Reserves coach Warren Joyce has already praised a "humble and model professional" for stepping down to work in the Under-21s, which speaks volumes about his integrity.
<
"This is the way now," Valdes reasoned. "When you don't play in the first team here in England, it's usually better to play in the Reserves. It's not something we do in Spain [where the 'B' teams are separate squads in a different division] but you must accept it and focus on your performance because it is good for your game rhythm."
The Under-21 clash with Tottenham also presented the 33-year-old with another chance to play at Old Trafford, his first outing at the Theatre of Dreams since the 2008 Champions League semi-final, about which he needed no reminding following Paul Scholes' majestic winning strike that set up another glorious night in Moscow. The image of the then-Barca no.1 flying through the air as the ball swung further and further away from him is engrained in every United fan's mind, having replayed the goal hundreds of times.
"Yes, the first time since that Scholes day," he smiled knowingly when reminded of the occasion. "It was good to play there again. It's a very nice stadium, an important stadium in the history of football and I think it's a dream for any player to play in this kind of arena."
The decision to move to the Premier League from La Liga could be questioned in some quarters after the English clubs' mediocre performance in Europe of late, but Valdes is convinced he has made the right call.
"It's different here because the Premier League is more physical in terms of the football, but you can always enjoy this," he stated. "The players try to kick at your target many times, so I think it is a good league for goalkeepers and will be a good experience for me."
When asked if the standard of the top English sides was lower than when he was facing United in Champions League finals, he replied: "I don't think so. The English teams are always at a good level and it is always very hard to play
against any English team, but sometimes things like this happen in the Champions League. It is a very difficult competition to win and to progress to the next round and this is what the Champions League is all about."
Hopefully, the near future for Valdes will involve heading across the continent again for matches in Europe's premier competition with United. He has taken those first steps to acclimatising to Manchester off the field and will be ready to prove his undisputed quality if called upon by van Gaal to become the sixth Spaniard to play for the Reds.
With a wealth of experience and a winning mentality sustained over a lengthy period of time at another of the world's greatest clubs, the shaven-headed shot-stopper gives the impression he is perfectly at home at United.
Comments
comments